Youth exchange from 24. June to 2. July 2019 
Wow! What was this for an intense and exciting meeting!
For the thirteenth time, the GEB organized a meeting of 70 young people with and without disabilities under the motto "We Can Do It". The topics of the meeting were inclusion and integration in European society.
Young people between the ages of 18 and 30 from twelve countries in Central and Eastern Europe and the Caucasus met in Azerbaijan for joint workshops and excursions.
HERE is the video documentation (raw version – still without subtitles)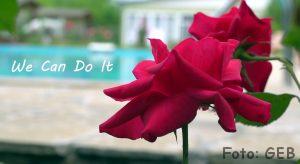 Belarus
Azerbaijan
Russia
Georgia
Moldova
Romania
Poland
Bulgaria
France
Spain
Ukraine
Germany
The project offers a special opportunity to creatively engage in workshops, a cultural program, language animation, leisure activities and everyday life in a common place with the topic of disability and the otherness stranger. The encounter creates a space to get to know each other, to exchange ideas, to get closer and to understand each other better. Above all, it leads to reflect on the topic of disability and, related to this, the integration of young people with disabilities into their local societies.